Sam Skyborne – About Me/Contact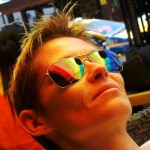 Sam Skyborne (pen name of Wollie Boehm) is a storyteller – both a writer and an award winning filmmaker. She has an English degree, a masters in Artificial Intelligence and currently lives and loves in London.
Sam has voraciously devoured stories all her life. But like many, she struggled to find books that sparked her imagination through more interesting female lead characters of substance, with whom she could identify. So, she decided to start writing her own. Her first novel, a superhero action adventure, "Simulation: The Dawn of a Superhero" was published in 2016. In 2017 she published "RISK: Three Crime-fighting Women Risk All for Love Lust and Justice," which is a sexy detective mystery. Her third novel, a gripping thriller set in Cape Town, is due out this spring.
She has written and directed a number of short films and a few of these are available as short story & short film sets in the L.E.S (Lesbian Erotic Shorts) Combo Collection.
You can find out more about Sam and her books, stories and writing adventures, with information about her new releases, promotions and author reading events, on this site http://SamSkyborne.com.
Please join my mailing list here to find out about any special promotions or new releases and author events here: subscribe me
Feel free to also follow Sam on:
Facebook: https://www.facebook.com/SamSkyborne
Twitter: @SamSkyborne
Instagram: https://www.instagram.com/SamSkyborne/
Pinterest: https://uk.pinterest.com/SamSkyborne/
Goodreads: https://www.goodreads.com/author/list/15141866.Sam_Skyborne
YouTube: https://www.youtube.com/channel/UCk9v10RX9f8ZAP7udcqk-qw
A personal note: If you have read any of my books and enjoyed them, please help me spread the work by telling your friends and kindly write me a little review on Amazon by selecting the relevant book on my Author Page. It all helps!
Contact Me
Email: SamSkyborne[@]Dukebox.life
* Please remove the [ ]
facebook: https://www.facebook.com/SamSkyborne
twitter: @SamSkyborne
instagram: @SamSkyborne
pinterest: SamSkyborne
fanfiction: https://www.fanfiction.net/u/7908707/SamSkyborne